Online Escape Room Concepts
Whether we are temporarily closed or fully open: we would like to continue to challenge you with overwhelming escape room experiences. At Escape World we therefore continuously work hard on special (online) concepts to offer you that experience, at our locations or from home!
You can contact us for a number of new escape room experiences:
Online Escape Room (via groep app)
Live Remote Escape Room
Theme Combination room
Split Escape Room
Discover our new escape room options and book today to experience these new concepts yourself!
THE SECRET LEGACY
Join Julia on an investigation and complete the latest expedition of her missing parents. Discover treasures, explore mysterious locations and avoid dangerous traps as you chase the discovery of the century. Find eternal fame with your group or end up trapped in a forgotten world. It's in your own hands … Adventure is calling. Do you dare?
info
Book now
LIVE REMOTE ESCAPE ROOM
Experience Cabin in the Woods from a completely new perspective. Via a video connection we take you live in this adventure and bring the world of Escape World to you! Make sure you help our hero to complete all the challenges. Make smart use of the maps and your inventory of objects. Be quick, because time is ticking away …
info
Book now
COMBINE 2 THEMES/ ROOMS
Unique at Escape World: combined escape room experience! We bring two of our most successful themes together into one spectacular story! Play with your team, but always with a maximum of 2 people in 1 room. Discover how two different themes intertwine and the secrets of a two team joint escape room experience.
Amsterdam
Hoofddorp
Tilburg
SPLIT ESCAPE ROOM
Experience our existing rooms in a completely different way! You play one theme and one escape room, but you will be split up and so you only have a part of the escape room at your disposal. Collaboration has never been more important to successfully escape within the available time ..!
Amsterdam
Tilburg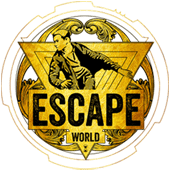 Contact
AMSTERDAM
+31 (0)20 223 8261
Contact opnemen
HOOFDDORP
+31 (0)23 205 2820
Contact opnemen
TILBURG
+31 (0)6 1118 6345
Contact opnemen
ZOETERMEER
+31 (0)79 368 4242
Contact opnemen
Escape World
Escape World is al jaren expert in het creëren van een geweldige escape ervaring, van kleinschalige familie- of vriendenuitjes tot complete groepsactiviteiten!
Vacatures
Franchise worden
Escape World Exclusief
Cadeaubon
Boek een Escape Room