Would you like to give someone an unforgettable adventure as a gift? You can do so by giving a gift certificate from Escape World!
IT WORKS AS FOLLOWS:
Enter your desired gift amount and the name to be put on voucher.
After payment you will receive a beautiful gift voucher with a value code in your mailbox within a few minutes.
You can print the voucher and give it to the lucky one.
By entering the value code when booking online, the amount of your gift voucher will immediately be deducted from the total amount.
We will make it an unforgettable outing!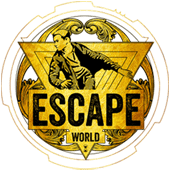 Escape World
Escape World has been an expert in creating a great escape experience for years, from small-scale family or friend outings to complete group activities!
Boek een Escape Room