Amsterdam Waterlooplein
Highest standard of live escape room games full with technical puzzles!
Book now
The best escape rooms in Amsterdam
Are you looking for the most exciting and fun escape rooms in Amsterdam? Escape World is the place to be! Professional rooms, intrigue, unique themes, excitement and sensation all come together at Escape World escape rooms in Amsterdam.
Book your escape room online in Amsterdam
Book online? You can do this very quickly and easily with us via the online booking form. Often you can even contact us last minute. Is the room you wanted fully booked? We can assure you that every room is a real challenge and a unique experience for everyone.
THE CHOCOLATE FACTORY
Difficulty
This room is currently closed
The rooms of Escape World Amsterdam
In Amsterdam you can choose from 6 exciting escape rooms. With different themes and levels of difficulty, there is certainly a room that suits you. Whether this is for 2 people or with a group of up to 6 people.
For example, take on the challenge in our Cabin in the Woods escape room. In these identical escape rooms in Amsterdam you can battle against each other as a group. Perfect as a team building activity or to let "old" compete against "young". Let's see who is faster!
The Flying Dutchman escape room in Amsterdam takes you into the history of the Flying Dutchman. Can you manage to steal Captain Davy Jones' treasure in 60 minutes?
The Chocolate Factory escape room at first glance looks like an escape room in Amsterdam that is only intended for children. But the opposite is true, this escape room is also very challenging for adults.
The Missing Bride is our newest escape room on Waterlooplein. The Escape Room also takes place here, because you will play the role of a detective team from the Waterlooplein agency! Can you find the Missing Bride in time?
For our most enchanting escape room in Amsterdam you are in the right place at Midnight Magic! As wizards, you are going to try to get your wands back to defend yourself against evil. Will you be able to get your wand back in time?
Questions? Please contact us!
Do you have questions about one of our escape rooms in Amsterdam Waterlooplein? Or do you want to make a request for a large group, such as several rooms at once? Feel free to contact us, we are happy to answer all your questions.
Location of Escape World Amsterdam
The Escape World escape rooms are centrally located at Waterlooplein, in the center of Amsterdam. It is easily and quickly accessible from Amsterdam Central Station. Are you done with the escape room? Then you can easily walk into the center of Amsterdam for delicious food or an activity. Do you want to know what is possible? Take a look at our composed packages !!
How do i get to Amsterdam Waterlooplein?
We are around the corner from the coffee shop on Waterlooplein, 50m from the famous Rembrandt house. By public transport, the best option is to take the metro and get off at the stop Waterlooplein (the second stop after Central Station), on Nieuwe Hoogstraat. From here you cross the Waterlooplein and walk into the Houtkopersdwarsstraat. From the metro about 2 minutes walk.
Plan your route
We have taken various measures to safely play an escape room with us when the escape rooms are open. Keep an eye on our website for the current status about the possibilities to play.
corona measures
Houtkopersdwarsstraat 3
1011 NK Amsterdam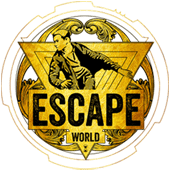 Escape World
Escape World is al jaren expert in het creëren van een geweldige escape ervaring, van kleinschalige familie- of vriendenuitjes tot complete groepsactiviteiten!
Boek een Escape Room