ESCAPE ROOM PACKAGE ZANDVOORT
Escape World Zandvoort has been an expert in creating a great escape experience for years. You can book your adventure online for groups of up to 35 persons, but we can also accommodate staff outings, birthdays and other group outings of up to 100 persons. In our Escape Rooms, you can experience up to 16 persons at the same time. Our City Games can be played up to 100 persons at the same time. Come enjoy our escape rooms and combine it with a great other activity and we will provide you with an afternoon or evening-filling programme.
We welcome you in our comfortable lounge with a free cup of good coffee, tea or water. You will find us in the heart of Zandvoort and we are easily accessible by public transport! The railway station is a 1-minute walk away.
Check out our City Games & other packages below:
Package in combination with Partners
Besides the City Games, we work with several partners to combine your Escape Room experience. For example, with a bite to eat or a drink in Zandvoort's bars and restaurants, or with an overnight stay!
We have often agreed a discount offer with our partners. You can book with the relevant party yourself!
View our partner deals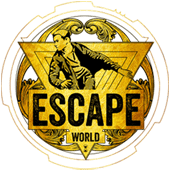 Escape World
Escape World has been an expert in creating a great escape experience for years, from small-scale family or friend outings to complete group activities!
Boek een Escape Room