We are happy to receive our guests again and will do everything we can to offer our guests a great and safe escape experience.
We look forward to your visit!
HYGIËNE MEASURES ON LOCATION
We have taken additional hygiene measures:
 Plexiglass has been placed on the reception desk;

For our guests there are disinfectants for the hands;

We kindly request our guests to wash their hands upon entering and before leaving;

We ask our guests to pay online or contactless;

We take care of cleaning all kinds of contact points such as door handles and the banister several times a day;

After each round of play we will clean the room and the game material;

We offer disposable gloves, guests who wish can use them;

We have had to adjust our lobby slightly to avoid contact, unfortunately there are no puzzles on the table and it is not possible to play the piano;

Our staff will stay at home if they comply with symptoms as RIVM has indicated;
We request that you read the following checklist.
CHECKLIST
If you can answer one or more of the following questions with "yes", we unfortunately cannot receive you now. Check whether you meet this requirement on the day you come to play.
Are you or any of your housemates / family members currently infected with Covid-19?

Have you been cured of Covid-19 less than two weeks ago?

Do you or one of your housemates / family members have one or more of the following symptoms; nose cold, sneezing, cough, sore throat, tightness, elevation, or fever (over 38 degrees)?
MEASURES RELATED TO 1,5 METER DISTANCE
We have adjusted the time slots of our rooms in a way that 1 room starts every 15 minutes instead of several rooms at the same time. This way we can minimize the chance of groups crossing.

Come play with a maximum of 2 people or with your own household with a maximum of 6 people, we have the following exceptions to this rule;
 Children up to the age of 12 are welcome if their group consists of a maximum of 7 children

When playing our so-called "split room" where we can separate the group into 1 escape room and they do not meet each other, a maximum of 4 people can play

When playing our so-called "combination rooms" where we can separate the group into 2 escape rooms and they do not meet each other, a maximum of 4 people can play

In some rooms up to 3 people can play, email us about this.

We offer our guests an app to use in our escape rooms. This app will beep when a player gets within 1.5 meters of someone else. Please download the free app before you come: https://onepointfive.app/

We request all our groups to arrive promptly 10 minutes before the start time of their reservation and to leave our location immediately after playing the escape room. We want to prevent the crossing between groups as much as possible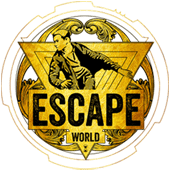 Escape World
Escape World is al jaren expert in het creëren van een geweldige escape ervaring, van kleinschalige familie- of vriendenuitjes tot complete groepsactiviteiten!
Boek een Escape Room